Surya Namaskar Steps You Should Follow | Step by Step Instruction
Sun Salutation, also known as Surya Namaskar, is one of the oldest ways of expressing gratitude to the sun. It's normally done first thing in the morning to welcome the sun. It is done in sets of fives and consists of eight asanas arranged in a 12-Surya Namaskar Steps sequence on each hand, right and left. Take a deep breath and follow the motions of your body each time you perform this series.
Surya Namaskar Steps | Step by Step Instruction
How many steps are there in Surya namaskar?
It's supposed to be extremely good for both the mind and the body. Surya Namaskar Steps is a weight-loss, muscle-strengthening, and immunity-boosting yoga practice. It also boosts blood supply and reduces stress. The Surya Namaskar consists of 12 different Surya Namaskar Steps.
1. Pranam Asana (The Prayer Pose)
The first pose is achieved by standing erect on the mat with your feet close together in the first place. Relax the back and take a deep breath. Take a deep breath in and lift your arms to the sides, then join your hands in front of your chest as you exhale.
2. Hasta Uttanasana (Raised arm pose)
Take a deep breath and join your hands together. To stretch properly, lift your arms up while slightly bending and pushing your pelvis forward. To lengthen the neck, stretch backward. Keep your biceps close to your ears while extending your whole body up from your heels.
3. Padahastasana (Standing forward bend)
Exhale and lean over so your fingertips can meet your toes. Maintain a straight spine. Softly press onto your shoes to uniformly distribute your body weight.
4. Ashwa Sanchalanasana (Equestrian pose)
As far as you can, push your right leg back and touch your right knee to the floor. Lift your head to look up and distribute your weight equally.
5. Santholanasana (Stick pose)
Inhale deeply and return your right leg to its original position next to your left leg. Maintain a parallel relationship with the ground by holding your hands under your shoulders. The entire length of your body should be in a straight line.
6. Ashtanga Namaskar Asana (Eight limbed salutation)
You must exhale while bringing your knees to the floor in this position. You must drive your hips backward and slide your body in front with your chest and chin facing downward. The floor should be touched by all eight parts of the body.
7. Bhujangasana (Cobra pose)
Slide forward gently, flattening the legs and abdomen on the deck. Place your palms against your stomach, apply pressure to your side, and slowly lift your upper body until your pelvic region is in contact with the ground. Look ahead with your head away from your face and your feet tucked in.
8. Adho Mukha Svanasana (Mountain pose)
To achieve a mountain pose, lift your hips and thrust your chest forward. Open your collarbones and pull your shoulders back. Lift your tailbone up while engaging your legs and keeping your feet on the bottom.
9. Ashwa Sanchalanasana (Equestrian pose)
Inhale and step forward with your right foot in between your hands, lowering your left knee to the deck. Look up and press your hips down.
10. Padahastasana (Hands to foot pose)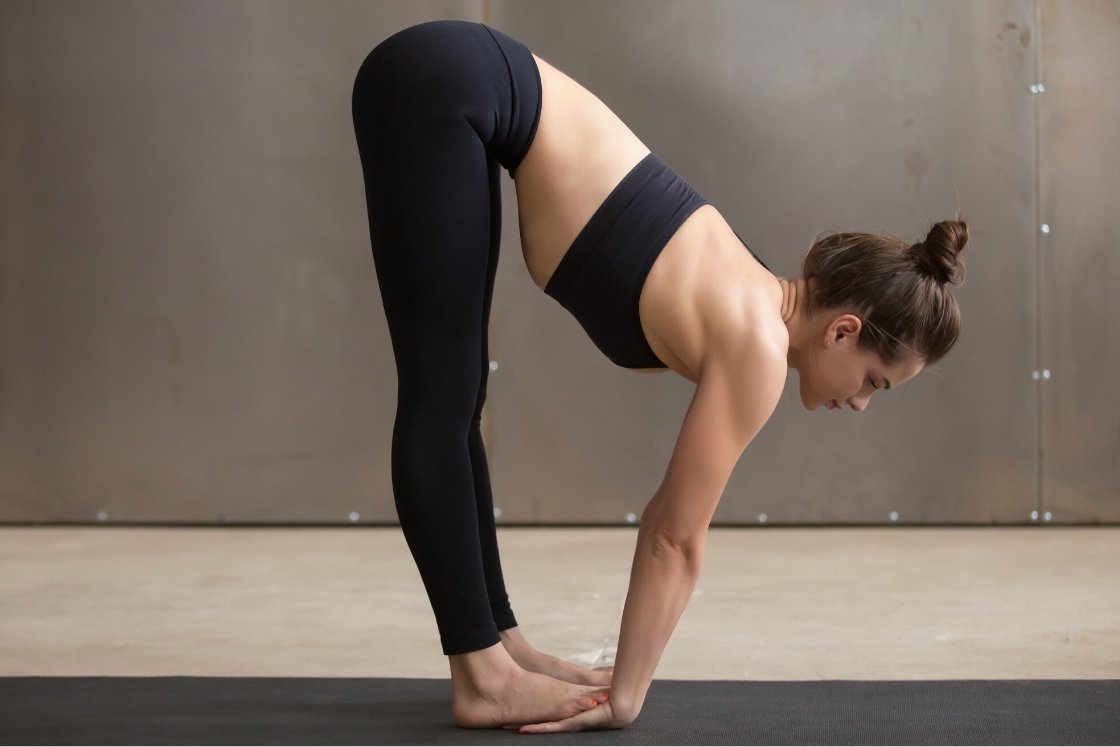 Exhale and bend over, aligning the toes with one another. With your thumbs, stroke your toes. If necessary, bend the knees and gently straighten them, attempting to touch your nose to the knees.
11. Hasta Uttanasana (Raised arms pose)
Inhale deeply and lift your hands above your head, stretching your spine back. Your hips should be pushed outwards. Bend backward and look up at the ceiling. Make sure your biceps are parallel to your ears.
12. Pranam Asana
Hold your feet together and evenly distribute your weight on both feet while you stand at the end of your mat. Straighten your body and relax your shoulders just slightly.
Also Read:
Eye Test How Many 3s: Circulating On Social Media
Eye tests are an easy and painless way to assess your vision and detect any problems with it, while simultaneously offering fun challenges like the 3-by-3 test: how many 3-shapes are in this image?
This puzzle involves studying an image of a smartphone screen and counting the number of 3s that appear within. There may be phone numbers, battery percentage, time and even letters that resemble 3s. Although seemingly straightforward, the puzzle can prove challenging as some 3s may be hidden or disguised in clever ways.
This puzzle has gone viral on social media and WhatsApp, with many sharing it with their friends and family. Some claim only a genius can solve it while 99% fail to give the correct answer. So, what's the correct answer and how can you find it? Let's find out.
How to Solve the Puzzle
The first step in solving the puzzle is looking closely at the image and trying to identify all of the threes that are clearly present. You should begin by studying a number pad where two 3s exist: one on key 3 and one that has replaced key 8; then you should examine a phone number which contains eight threes altogether: four within its area code and four amongst its last four digits.
Turn your focus to the top right corner of the screen, where two more 3s can be found: one in battery percentage (33%), and one in time (3:33 PM). At this point, you have found 12 3s in total!
At first glance, this image may seem devoid of threes; however, closer examination will reveal more hidden 3s. You need to focus on the name under the phone number: LIFE IS HELL; when looking carefully at each letter of this phrase you will discover three which have been replaced with 3s as they look similar – thus adding three extra 3s to your count making 15.
Unveiling the Elusive Sixteenth Three
However, one additional 3 is hidden deep within the number pad's bottom row of keys: *, 0, # and call. To locate it you need to look closely at how each of them has four dots in a square configuration while # only has three; its fourth dot has been replaced by an invisible three that blends seamlessly into its surrounding environment – making the count 16! Most people miss this tricky trick that adds one extra three to your total count, making your total of 16!
FAQ: The Ultimate Guide to Your Questions
Q: Why do some people say there are more than 16 threes in an image?
A: Some people may claim there are more than 16 threes because they count other elements that contain three parts or segments; for instance, some count signal strength bars at the top left corner of a computer screen that have three segments each and consider this an instance of counting three threes each; this would bring the total up to 20 threes!
However, this method is ineffective because these bars do not represent actual numbers or letters that resemble them; rather they represent signals or wifi connections and their strength or weakness – none of which have anything to do with puzzle solving or eye tests.
Q: What is the purpose of this puzzle?
A: This puzzle's purpose is to be enjoyable while stretching your observation skills and attention to detail. It shouldn't be seen as an eye test or test of intelligence; rather it should be treated more as a game in which players must detect hidden or disguised elements in images.
Q: Where did this puzzle originate from? 
A: This puzzle first surfaced in a viral WhatsApp message which circulated widely. According to this message, only geniuses are capable of solving it and most people fail to provide the appropriate response. Users were then encouraged to share it with friends and family to see if any could solve it too.
The puzzle became widely shared on social media platforms like Facebook and Twitter, where many posted it with different captions or challenges attached. Furthermore, some websites featured it as an article or quiz with different variations and explanations for solving it.
Stay tuned to Chopnews for the latest scoops and updates of Latest News, Technology News, Business News, World News and Entertainment News.