Top 5 Places to Visit in Louisiana
Top 5 Places to Visit in Louisiana: Hey guys welcome to another article. We all know about the beauty of USA and every travel freak wants to visit this country once. So in the following article I will be telling you about an interesting place in the country. That is Louisiana.
Louisiana is not just known for Mardi Gras or New Orleans this place has many more things to do. You can enjoy kayaking in the rivers, sightseeing, bird watching, the history of the place and yes one can never neglect the food. So in the below article I will be listing down about
Top 5 Places to Visit in Louisiana
1. French Quarter
French quarter is located in New Orleans. It reflects Spanish, French and American styles together through its architecture. Nowadays it is also known as Vieux Carre or The Quarter. The Gallier house was built by James Gallier who was a renowned architect during those days.
Other than this beautiful place you can also do many other things like shopping, clubbing, dining, and many more things. Like the music, the culture and the history are things to cherish in French Quarter.
If you want to explore these things and want to know more about French quarter then hire a tour or guide to explore the place.
Address: – French quarter New Orleans LA USA.
2. Louisiana Wetlands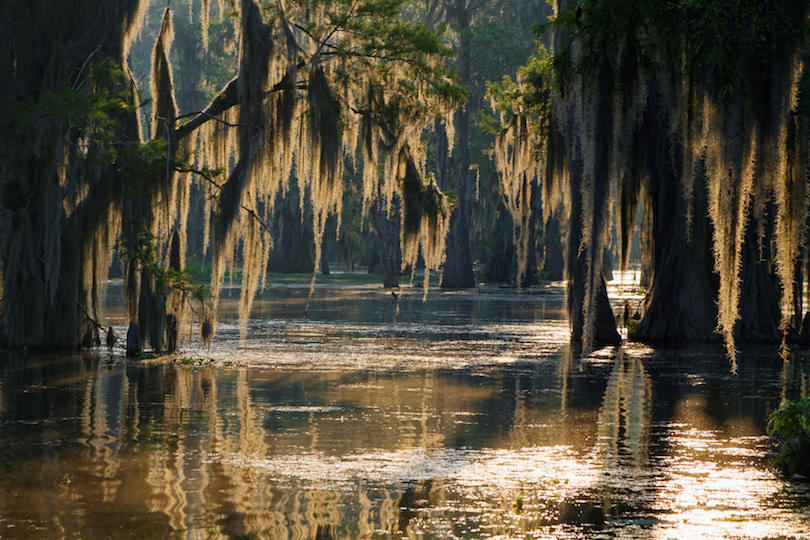 Much of Louisiana is made up of wetlands. These areas flood with the seasons and are generally uninhabited, but they are home to a plethora of wild animals. Swamp tours are advertised throughout the state, and they are an incredible chance to see a completely different side of Louisiana.
Although all types of vessels are used for these tours, the most exciting is the airboat. These boats are able to navigate through swampy areas because their motors are above, rather than below, the water. Plus, the speed and noise makes it a rush! On a quieter swamp tour by canoe or kayak, prepare to see alligators, owls, snakes, herons, pelicans, nutria, otters and turtles.
3. The National World War Museum
This is a museum that mimics the history of World War II. It is a military museum with all the history packed in a beautiful manner. The museum was opened in 2000 and now has over 1, 00,000 artifacts that shows the history of war.
The museum has all from the history the vehicles, weapons, uniforms, artwork, diary, letters, photography and other mementos. Focus on here is a stage that uses the artifacts, maps, the photograph and other things to tell the history of World War II.
Here you can hear the oral histories from the veterans.  So book your tickets and head towards the national world war museum II.Top 5 Places to Visit in Louisiana
Address: – 945 Magazine St. New Orleans LA 70130 USA
New Orleans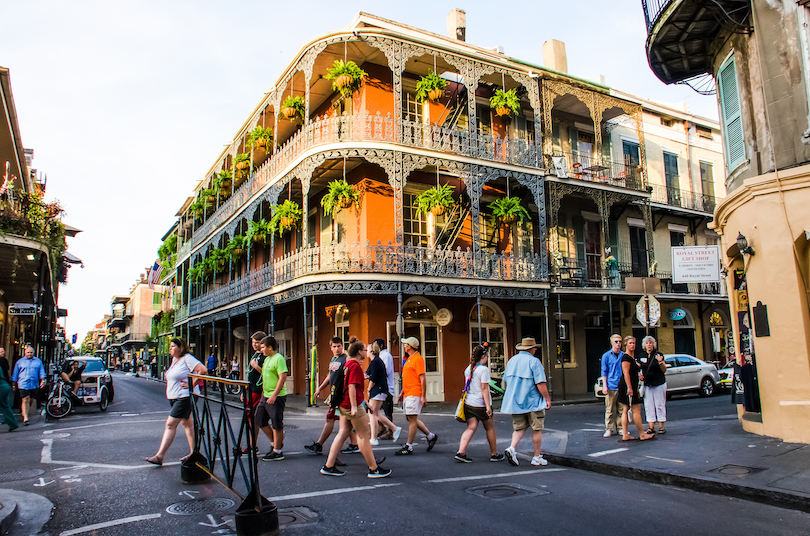 New Orleans, also known as the Big Easy is quite unlike any other place in the U.S. It has Creole, Cajun, Southern, and a lot of French. The city, located in southeastern Louisiana is well-known for its annual Mardi Gras festivities.
It's no surprise that the French Quarter is the most popular part of New Orleans. Jackson Square is a pedestrian zone dominated by the iconic St. Louis Cathedral spires.
Bourbon Street is also located in the French Quarter, where you can find live music and cold beverages from morning to night. You can also enjoy chicory coffee and beignets at Cafe du Monde.
5. St Louis Cathedral
It is the oldest cathedral that is situated in the North America. It is the center of attraction of the New Orleans. The iron work galleries, the three steeples towering is a beauty of that place.
If you want to know the history of the cathedral then hires a guide that will tell you the best. The mind blowing paintings, the glass work and yes the pipe organ are the main attractions of the cathedral.
Attend a mass over here or just visit to see the beauty and history of this place it will never disappoint you. After you get done with the cathedral then visit the nearby shops and buy the culture of the place.
Address: – 615 Pere Antoine alley LA 70116 USA.
Read Also:
Newhart Cast: How They Changed the Face of Television
Newhart Cast: Newhart was a popular sitcom that aired on CBS from 1982 to 1990. The show starred Bob Newhart as Dick Loudon, a how-to book writer who moved with his wife Joanna (Mary Frann) to a rural Vermont inn. The show featured a quirky ensemble of characters, including the inn's handyman George (Tom Poston), the spoiled maid Stephanie (Julia Duffy), the ambitious producer Michael (Peter Scolari), and the eccentric trio of Larry (William Sanderson) and his brothers Darryl (Tony Papenfuss) and Darryl (John Voldstad).
The show was known for its witty humor, clever plots, and memorable finale, which revealed that the entire series was a dream of Newhart's previous character, Dr. Bob Hartley, from The Bob Newhart Show. The show was nominated for 25 Primetime Emmys and won six awards, including Outstanding Guest Actress in a Comedy Series for Ruth Gordon and Outstanding Writing in a Comedy Series for David Mirkin.
Newhart Cast: What You Didn't Know About the Classic Comedy
1. Bob Newhart | Newhart Cast
He acted as Dick Loudon: The protagonist of the show, Dick is a mild-mannered and sarcastic author who hosts a local television show called Vermont Today. He often gets involved in the antics of his friends and neighbors, and tries to maintain some sanity in his chaotic life.
2. Mary Frann | Newhart Cast
She acted as Joanna Loudon: Dick's wife and partner, Joanna is a supportive and sensible woman who helps run the Stratford Inn. She is often more patient and understanding than Dick, but also has a strong sense of humor and can stand up for herself when needed.
3. Tom Poston | Newhart Cast
He acted as George Utley: The inn's handyman and Dick's loyal friend, George is a simple and naive man who loves animals and nature. He is often oblivious to sarcasm and irony, and has a crush on Stephanie.
4. Julia Duffy | Newhart Cast
She acted as Stephanie Vanderkellen: The inn's maid and Michael's girlfriend, Stephanie is a spoiled and snobbish heiress who hates her job and complains about everything. She is often rude and selfish, but also has a soft side and cares for Michael.
5. Peter Scolari | Newhart Cast
He acted as Michael Harris: The producer of Vermont Today and Stephanie's boyfriend, Michael is an ambitious and arrogant yuppie who clashes with Dick over creative differences. He is often greedy and manipulative, but also has a romantic streak and loves Stephanie.
6. William Sanderson | Newhart Cast
He acted as Larry: A local resident who lives in a shack with his two brothers, Darryl and Darryl. Larry is the spokesperson of the trio, who always introduces himself with the catchphrase "Hi, I'm Larry; this is my brother Darryl; this is my other brother Darryl". He is friendly and eccentric, but also has some strange habits and beliefs.
7. Tony Papenfuss | Newhart Cast
He acted as First Darryl: Larry's older brother, who never speaks or shows any emotion. He is usually seen wearing a plaid shirt and a hat.
8. John Voldstad | Newhart Cast
He acted as Second Darryl: Larry's younger brother, who also never speaks or shows any emotion. He is usually seen wearing a denim shirt and overalls.
Recurring Cast: How the Show Changed Television Forever
1. Steven Kampmann | Newhart Cast
He acted as Kirk Devane: The original owner of the Minuteman Cafe next to the inn, Kirk was a neurotic and insecure man who lied about his past and had a crush on Leslie Vanderkellen (Jennifer Holmes), Stephanie's cousin and predecessor. He left the show after season two.
2. William Lanteau | Newhart Cast
He acted as Chester Wanamaker: The mayor of the town and Dick's friend, Chester was an elderly and eccentric man who often made absurd decisions or announcements. He died in 1993, during the show's final season.
3. Thomas Hill | Newhart Cast
He acted as Jim Dixon: The owner of the town's radio station WPIV and Dick's boss, Jim was a friendly and laid-back man who often gave Dick advice or support. He also had a son named Bill (John Putch), who worked at the station.
4. Todd Susman | Newhart Cast
He acted as Officer Shifflett: The town's police officer and George's friend, Shifflett was a good-natured and helpful man who often assisted Dick and the others in their problems or adventures. He also had a crush on Miss Goddard (Kathy Kinney), the town's librarian.
5. Ralph Manza | Newhart Cast
He acted as Bud: The owner of the town's general store and George's friend, Bud was a cheerful and talkative man who often sold or traded various items or services to Dick and the others. He also had a wife named Marge (Nancy Marvy).
6. Jeff Doucette | Newhart Cast
He acted as Harley Estin: The owner of the town's gas station and George's friend, Harley was a dim-witted and clumsy man who often caused trouble or accidents with his inventions or schemes. He also had a pet raccoon named Earl.
7. Eileen Brennan | Newhart Cast
She acted as Corinne Denby: A wealthy widow and Dick's former classmate, who appeared in two episodes in season six. She was a snooty and manipulative woman who tried to buy the inn from Dick and Joanna, but also had a secret crush on Dick.
FAQ: The Ultimate Guide To Your Questions
Q: Who played Dick Loudon on Newhart?
A: Bob Newhart played the role of Dick Loudon, a writer and innkeeper.
Q: Who played Joanna Loudon on Newhart?
A: Mary Frann played the role of Joanna Loudon, Dick's wife and co-owner of the inn.
Q: Who played George Utley on Newhart?
A: Tom Poston played the role of George Utley, the handyman and caretaker of the inn.
Q: Who played Stephanie Vanderkellen on Newhart?
A: Julia Duffy played the role of Stephanie Vanderkellen, Dick's spoiled and snobbish producer.
Q: Who played Michael Harris on Newhart?
A: Peter Scolari played the role of Michael Harris, Dick's arrogant and ambitious producer.
Stay tuned to CHOPNEWS for the latest scoops and updates of Business News, Sports News, Technology News, World News and Entertainment News