End Sars: Nigerian army warning amid anti-police brutality protests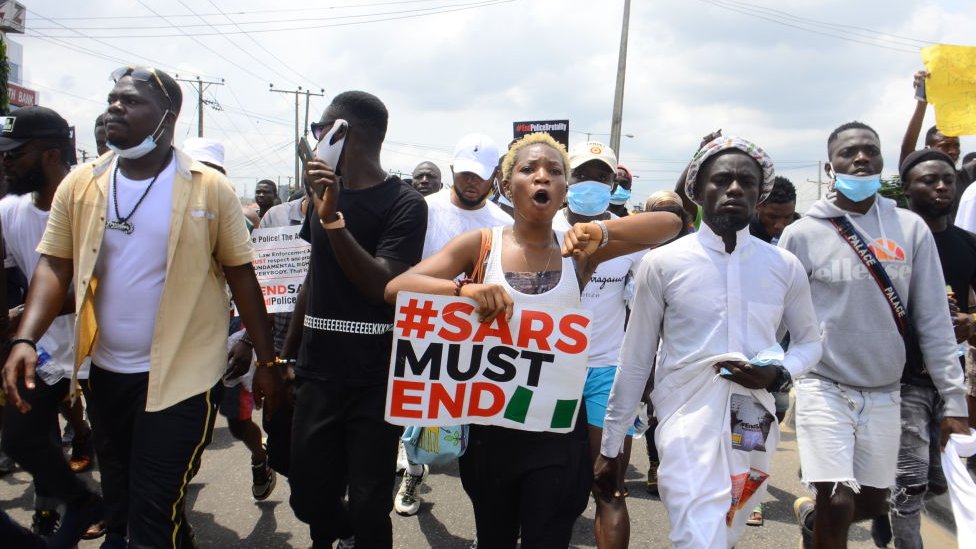 The Nigerian military has issued a warning to "subversive elements and trouble makers" to desist after a week of protests about police brutality.
The warning came as protesters were attacked by unidentified men with machetes in the capital, Abuja.
Demonstrations against police brutality have taken place in cities across Nigeria in the past week.
The protests have continued despite authorities agreeing to disband the Special Anti-Robbery Squad (Sars).
This unit has been accused of extrajudicial killings, extortion and torture, especially of young people.
Africa Live: More updates from around the continent

The young Nigerians who forced the president to back down
Nigeria's 60-year struggle for unity
What did the army say?
The army spokesman Col Sagir Musa said in a Facebook post that "The NA (Nigerian army) hereby warns all subversive elements and trouble makers to desist from such acts as it remains highly committed to defend the country and her democracy at all cost".
He went on to offer to "support the civil authority in whatever capacity to maintain law and order and deal with any situation decisively".
The statement has been received as a veiled threat by protesters, reports the BBC's Chris Ewokor from Abuja.
What happened with the attack on the protesters?
On Wednesday, protesters against police violence in Abuja were attacked by a group of unidentified men with machetes.
Witnesses said several hundred demonstrators were gathered in the city centre when the attack took place.
One protester said some of the assailants were later detained and handed over to the authorities.
Will the army step in?
By Nduka Orjinmo, BBC News, Lagos
If the president accepts the army's offer to step in, it means the government hasn't learnt from past mistakes – it would be trying to solve new problems with old solutions that never worked before.
Nigeria's army has a bloody history quelling civil disobedience.
The army coming in could make everything that has happened in the last week – with the deaths of at least 10 people caused by the protests, and the notoriety of the now disbanded Sars – look like child's play.
The generation leading the protests has no experience of military rule – which ended in 1999 – and its brutal repressions of civil disobedience, so it's hard to know how they will react.
But if there's anything the last week has shown, it is that this group doesn't give up easily.
How did the protests start?
The protests started following the alleged killing of a young man by officers from the Sars unit at the beginning of October.
Protesters called for the Sars unit to be disbanded.
The police closed down the unit and announced a new unit – the Special Weapons and Tactics (Swat) team.
But protesters rejected the announcement, as many see the changes as not enough to reform the police.
The protests have attracted worldwide attention – most recently the CEO of Twitter Jack Dorsey tweeted his support for the protests.
Those working in Nigeria's tech sector have been prominent among those complaining about the activities of Sars officers.
Nigeria superstars Wizkid and Davido have also backed the protesters.
Cast Of Cunk On Earth: Who Are the Characters in the Comedy Series
Cast of Cunk on Earth is a British comedy series which follows Philomena Cunk, an inept yet hilarious presenter, as she explores human history and invention. Along her journey she meets various experts who attempt to explain complex topics to her with hilarious results. Cunk was written and directed by Christian Watt and first premiered on Netflix in 2022 – garnering rave reviews from critics as well as audiences alike.
The Main cast of Cunk on Earth includes
Diane Morgan stars as Philomena Cunk
Diane Morgan stars as Philomena Cunk, the protagonist and narrator of this series. As Philomena, Diane asks experts hilarious yet often inappropriate and laugh-inducing questions while mispronouncing words, inventing facts or misinterpreting concepts. Furthermore, Diane provides voiceover commentary during each episode adding her opinions and insights on various subjects. Morgan is a British actress, comedian and writer known for roles such as After Life, Mandy Motherland as well as Charlie Brooker's Weekly Wipe among many other roles.
Jim Al-Khalili portrays himself
Jim Al-Khalili portrays himself, an academic at the University of Surrey specializing in public engagement in science. As one of Cunk's frequent experts to interview, Al-Khalili appears in four out of five episodes and attempts to educate Cunk on topics including Big Bang cosmology, evolution, gravity, electricity and space exploration; though often baffled by Cunk's questions and comments. Al-Khalili himself is British-Iraqi physicist author broadcaster who has presented several documentaries as well as radio shows dedicated to this subject matter.
Shirley J. Thompson plays herself
Shirley J. Thompson plays herself, an established composer and conductor. She appears in four out of five episodes as Cunk interviews her as an expert on music history and theory; such as classical music, opera, jazz and rap music history and theory. Thompson also provides Cunk with various instruments like violin and piano for Cunk to use during performances; she hails from British-Jamaican origin and has composed works for orchestra, choir, film and television productions.
Cunk on Earth features an ensemble cast that includes experts across various fields – history, art, philosophy, politics and religion among them – whom Cunk interviews for each episode. Hear their perspectives! They include:
Douglas Hedley stars as himself
Douglas Hedley stars as himself, an assistant professor of religious philosophy at Cambridge. In three episodes he attempts to provide Cunk with insight into various religious concepts like God, faith, morality and miracles.
Brian Klaas stars in two episodes as himself
Brian Klaas stars in two episodes as himself, an associate professor in global politics at University College London. In both instances he attempts to explain various political concepts such as democracy, dictatorship, war and peace to Cunk.
Ashley Jackson stars as himself
Ashley Jackson stars as himself, an esteemed professor of imperial and military history at King's College London. In two episodes he attempts to provide Cunk with insight into historical events such as the Crusades, British Empire and World War II.
Nigel Spivey plays himself
Nigel Spivey plays himself, an expert lecturer of Classics (Classical Art and Archaeology) at Cambridge. In two episodes he attempts to provide explanations to Cunk about various ancient civilizations such as Egypt, Greece and Rome.
Ruth Adams portrays herself
Ruth Adams portrays herself, appearing in two episodes and trying to educate Cunk about various aspects of modern culture such as fashion, cinema and social media.
FAQ: The Ultimate Guide to Your Questions
Q: Is Cunk on Earth a documentary or a comedy?
A: Cunk on Earth is a comedy series that mocks documentary formats by using real footage and interviews of real experts while adding fictional commentary and questions from Philomena Cunk herself.
Q: Who is Philomena Cunk, real or fictional?
Philomena Cunk was created by Diane Morgan and Charlie Brooker as a fictional character that first made her appearance in Charlie Brooker's Weekly Wipe as a parody reporter commenting on current affairs.
Q: How many episodes does Cunk on Earth contain?
A: Cunk on Earth has five episodes, each lasting around 30 minutes, that make up its story: In the Beginnings; The Age of Wonder; Rise of Machines; The Age of Now and The End of the World.
Q: Where can I watch Cunk on Earth?
A: Cunk on Earth can be found streaming on Netflix, with some trailers available on YouTube as well.
Q: Will there be another season of Cunk on Earth?
A: Although no official confirmation has been given yet, both creators and cast have expressed interest in making more episodes. Fans can sign a petition in support of its renewal.
Stay tuned to CHOPNEWS for the latest scoops and updates of Business News, Sports News, Technology News, World News and Entertainment News