Amy Coney Barrett: Trump Supreme Court nominee faces questions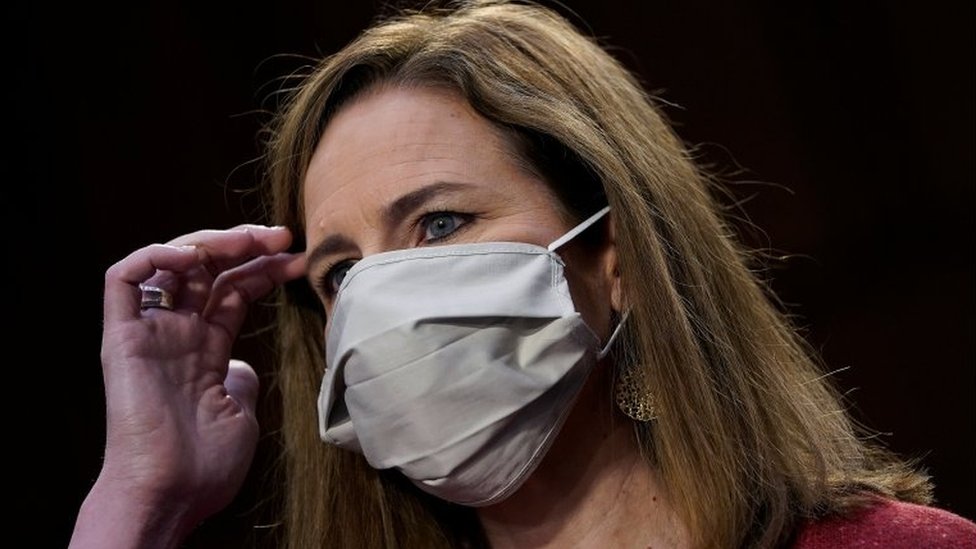 US Supreme Court nominee Amy Coney Barrett faces a grilling by Democrats opposing her nomination, in day two of her Senate confirmation hearing.
They are likely to cast her as a threat to healthcare reforms passed under former President Barack Obama.
The conservative judge said on Monday she was "honoured" to be President Donald Trump's pick for the top court.
Republicans are seeking to approve her nomination ahead of the presidential election in three weeks.
Her confirmation would give the nine-member court a 6-3 conservative majority, altering the ideological balance of the court for potentially decades to come.
Democrats fear Judge Barrett's successful nomination would favour Republicans in politically sensitive cases that reach the Supreme Court.
She is the proposed replacement for liberal Justice Ruth Bader Ginsburg, who died last month aged 87.
But Republicans have praised Judge Barrett. Senate Judiciary Committee chairman Lindsay Graham on Monday said she belonged in "a category of excellence".
"This is a vacancy that's occurred, the tragic loss of a great woman. And we're going to fill that vacancy with another great woman," he said.
Who is Trump's Supreme Court pick?

Amy Coney Barrett in her own words
What is Roe v Wade ruling on abortion?
Republicans hold a slim majority in the US Senate, the body that confirms Supreme Court judges, making Judge Barrett's nomination very likely to pass.
Democrats have criticised the rushed process as "reckless" and a "sham", amid a coronavirus pandemic that has killed 215,000 people in the US.
They have also accused Republicans of hypocrisy. In March 2016, when Mr Obama, a Democrat, put forward a nominee to fill a spot on the court, the Senate Republicans refused to hold hearings, arguing the decision should not be made in an election year.
What's in store for Tuesday's hearing?
Tuesday is the first of two days of direct questioning for Judge Barrett from senators on the deeply divided Senate Judiciary Committee.
It follows day one of hearings on Monday, in which she explained her legal philosophy and qualifications for the lifetime position on America's top court.
Democratic senators are likely to scrutinise her conservative views and decisions she has delivered as a judge on the Seventh Circuit Court of Appeals. Much of her record could be seen to be in opposition to the philosophy of the late Justice Ginsburg.
Senator Dianne Feinstein, the top Democrat on the committee, started by asking about abortion. Questioning whether the nominee agreed with the view that Roe v Wade – the case that led to legalisation of abortion in the US – was "wrongly decided", Judge Barrett vowed not to "pre-commit" to any view.
"I have an agenda to stick to the rule of law," she said, stating that she had "no agenda to try to overrule" other decisions.
The judge is a devout Catholic but stated on Tuesday that she had "never tried to impose" her personal choices on others, in her personal life or her professional life.
Healthcare is also high up the agenda, amid the possibility that she could be a deciding vote to strike down reforms enacted by former President Obama, providing health insurance to millions of Americans.
Senator Feinstein argued on Monday that "Americans stand to lose the benefits that the ACA [Affordable Care Act] provides" if Judge Barrett is on the top court, when it hears a case against the public health insurance scheme next month.
Asked for her opinions on the law on Tuesday, Judge Barrett refused, arguing that as this case is soon to be heard by the court, "the canons of judicial conduct prohibit me from expressing a view".
Judge Barrett has in the past criticised a 2012 Supreme Court ruling upholding the ACA.
The hearings, lasting four days, are the key step before a full Senate vote on the nomination.
What did Judge Barrett say on Monday?
"I believe Americans of all backgrounds deserve an independent Supreme Court that interprets our constitution and laws as they are written," the 48-year-old jurist told senators.
Judge Barrett argued that elected politicians make "policy decisions and value judgments", not Supreme Court justices.
"In every case, I have carefully considered the arguments presented by the parties, discussed the issues with my colleagues on the court, and done my utmost to reach the result required by the law, whatever my own preferences might be," she said.
Who is Amy Coney Barrett?
favoured by social conservatives due to record on issues like abortion and gay marriage
a devout Catholic but says her faith does not influence her legal opinion
is an originalist, which means interpreting US Constitution as authors intended, not moving with the times
lives in Indiana, has seven children including two adopted from Haiti
What's the confirmation process?
After the hearings end, any committee member can require an additional week before the formal panel vote on whether to present the nomination for confirmation before the full Senate. It is not clear if the members will be able to vote remotely.
If she passes the committee stage, the full Senate will vote to confirm or reject Judge Barrett's nomination.
Republicans already appear to have the 51 votes needed to get Judge Barrett confirmed.
Senate majority leader Mitch McConnell has vowed to hold a confirmation vote before the presidential election.
Barring a surprise, Democrats seem to have few options to prevent her from gliding through the Senate to the Supreme Court bench.
Battle over Supreme Court
US Supreme Court

United States
Cast Of Cunk On Earth: Who Are the Characters in the Comedy Series
Cast of Cunk on Earth is a British comedy series which follows Philomena Cunk, an inept yet hilarious presenter, as she explores human history and invention. Along her journey she meets various experts who attempt to explain complex topics to her with hilarious results. Cunk was written and directed by Christian Watt and first premiered on Netflix in 2022 – garnering rave reviews from critics as well as audiences alike.
The Main cast of Cunk on Earth includes
Diane Morgan stars as Philomena Cunk
Diane Morgan stars as Philomena Cunk, the protagonist and narrator of this series. As Philomena, Diane asks experts hilarious yet often inappropriate and laugh-inducing questions while mispronouncing words, inventing facts or misinterpreting concepts. Furthermore, Diane provides voiceover commentary during each episode adding her opinions and insights on various subjects. Morgan is a British actress, comedian and writer known for roles such as After Life, Mandy Motherland as well as Charlie Brooker's Weekly Wipe among many other roles.
Jim Al-Khalili portrays himself
Jim Al-Khalili portrays himself, an academic at the University of Surrey specializing in public engagement in science. As one of Cunk's frequent experts to interview, Al-Khalili appears in four out of five episodes and attempts to educate Cunk on topics including Big Bang cosmology, evolution, gravity, electricity and space exploration; though often baffled by Cunk's questions and comments. Al-Khalili himself is British-Iraqi physicist author broadcaster who has presented several documentaries as well as radio shows dedicated to this subject matter.
Shirley J. Thompson plays herself
Shirley J. Thompson plays herself, an established composer and conductor. She appears in four out of five episodes as Cunk interviews her as an expert on music history and theory; such as classical music, opera, jazz and rap music history and theory. Thompson also provides Cunk with various instruments like violin and piano for Cunk to use during performances; she hails from British-Jamaican origin and has composed works for orchestra, choir, film and television productions.
Cunk on Earth features an ensemble cast that includes experts across various fields – history, art, philosophy, politics and religion among them – whom Cunk interviews for each episode. Hear their perspectives! They include:
Douglas Hedley stars as himself
Douglas Hedley stars as himself, an assistant professor of religious philosophy at Cambridge. In three episodes he attempts to provide Cunk with insight into various religious concepts like God, faith, morality and miracles.
Brian Klaas stars in two episodes as himself
Brian Klaas stars in two episodes as himself, an associate professor in global politics at University College London. In both instances he attempts to explain various political concepts such as democracy, dictatorship, war and peace to Cunk.
Ashley Jackson stars as himself
Ashley Jackson stars as himself, an esteemed professor of imperial and military history at King's College London. In two episodes he attempts to provide Cunk with insight into historical events such as the Crusades, British Empire and World War II.
Nigel Spivey plays himself
Nigel Spivey plays himself, an expert lecturer of Classics (Classical Art and Archaeology) at Cambridge. In two episodes he attempts to provide explanations to Cunk about various ancient civilizations such as Egypt, Greece and Rome.
Ruth Adams portrays herself
Ruth Adams portrays herself, appearing in two episodes and trying to educate Cunk about various aspects of modern culture such as fashion, cinema and social media.
FAQ: The Ultimate Guide to Your Questions
Q: Is Cunk on Earth a documentary or a comedy?
A: Cunk on Earth is a comedy series that mocks documentary formats by using real footage and interviews of real experts while adding fictional commentary and questions from Philomena Cunk herself.
Q: Who is Philomena Cunk, real or fictional?
Philomena Cunk was created by Diane Morgan and Charlie Brooker as a fictional character that first made her appearance in Charlie Brooker's Weekly Wipe as a parody reporter commenting on current affairs.
Q: How many episodes does Cunk on Earth contain?
A: Cunk on Earth has five episodes, each lasting around 30 minutes, that make up its story: In the Beginnings; The Age of Wonder; Rise of Machines; The Age of Now and The End of the World.
Q: Where can I watch Cunk on Earth?
A: Cunk on Earth can be found streaming on Netflix, with some trailers available on YouTube as well.
Q: Will there be another season of Cunk on Earth?
A: Although no official confirmation has been given yet, both creators and cast have expressed interest in making more episodes. Fans can sign a petition in support of its renewal.
Stay tuned to CHOPNEWS for the latest scoops and updates of Business News, Sports News, Technology News, World News and Entertainment News