After a long wait, Splits Villa has returned with a new concept for each season, which is a reality show for finding their true love…..
In this new season of Splitsvilla 8, there are celebrity boys and non-celebrity boys, which is hosted by Rannvijay after a long time and he says that he is back to his spot, as well as by Sunny Leone. The boys are more handsome and hot than the girls in previous seasons.
Let's get to know all of the MTV Splitsvilla 8 contestants.
Splitsvilla 8 Contestants Name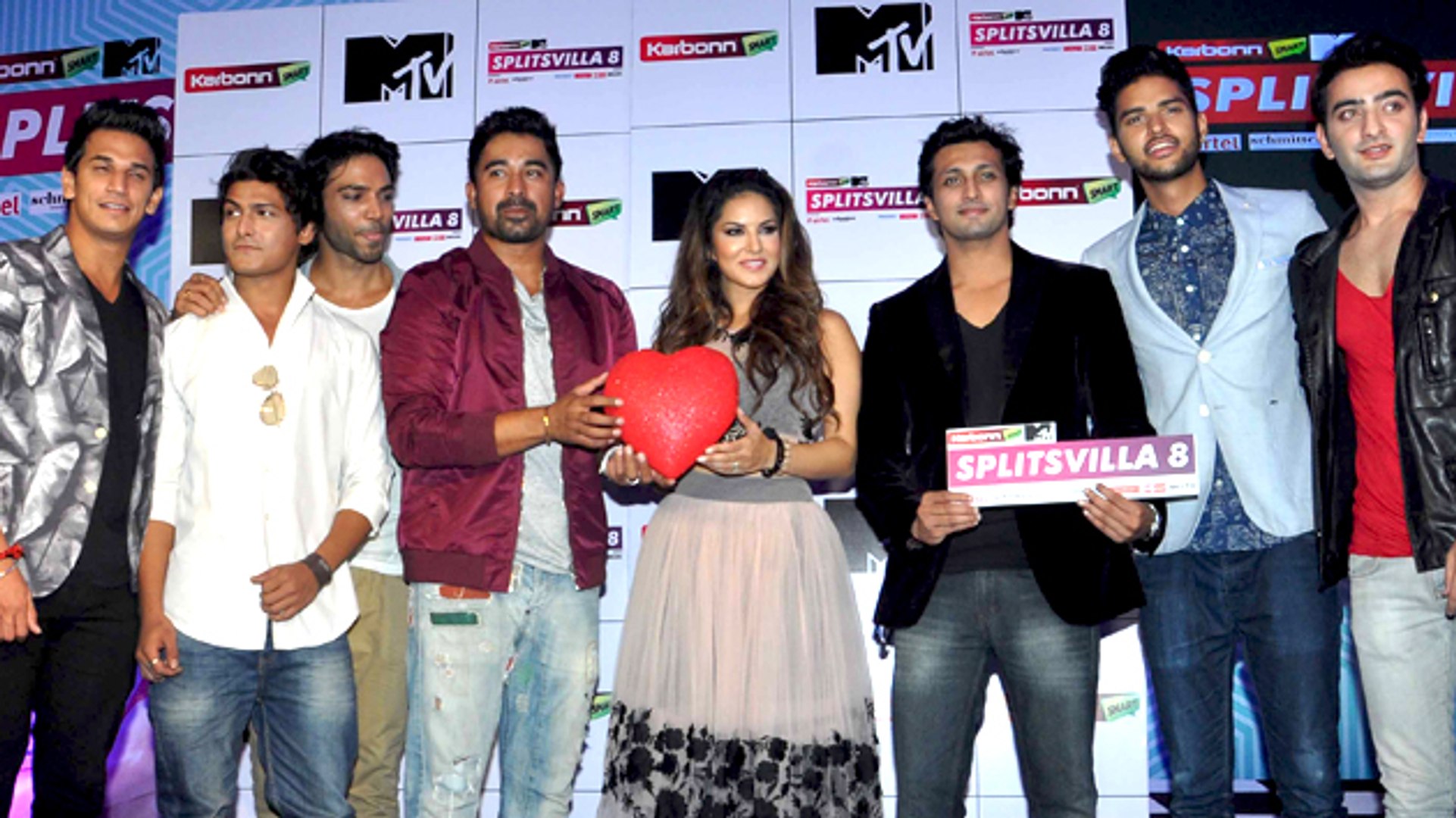 Splits Villa 8 Celebrity Contestants:
1. 

Ishan Chhibber

Ishan Chibber is a young hunk and Splitsvilla 8 Contestants who is well-known in the fashion and acting worlds. He appeared in Season 8 of MTV's youth-oriented reality show Splitsvilla, which premiered on July 4, 2015. Ishan P. Chibber was born on September 12, 1990, in Glasgow, Scotland. He has a 26-year-old son. He was born into a Punjabi family. He studied Modeling at Glasgow Kelvin College and went to the Glasgow School of Sport. He is a graduate of the University of Glasgow.

He has captivated the audience with his dashing appearance and endearing personality. He is a religious man. Before entering the Splitsvilla villa, Ishan had appeared in many TV advertisements. He was one of the eight popular boys. He excelled in the challenge in which he fought against Paras Chhabra and Amaad, in which they had to fill a bucket with ocean water using another bucket riddled with holes.

The only catch was that the wooden plank they'd have to step on had been greased. Ishan evicted Amaad and Paras. He was kicked off the show after losing a challenge to Zaan Khan and Karishma Talwar in the underwater mission, which resulted in his elimination. The female viewers of the show were devastated by his eviction because they had hoped he would win. He had gained a lot of fame and a large fan base as a result of the show, and he had also sparked a lot of gossip and generated a buzz.

He was a famous contestant on the show, known for his suave and one-of-a-kind fashion sense. He has walked the runway for Mutant Jeans designer Arvind. He weighs 60 kilograms and stands 5 feet 9 inches tall. He enjoys traveling, acting, and adventure sports. Ishan currently works as a freelance fashion model in Mumbai. His zodiac sign is Virgo, and his favorite actors and actresses are and Nargis Fakhri.

He is dating Subuhi Joshi, whom he met on the set of Splitsvilla. He is working hard to get into the film industry and work in the world of Bollywood. He is also known as Ish, Ishu, Sid, and Chhibbu. Ishan adores animals, particularly his pet dogs. He is Foster's beer's brand ambassador and faces splitsvilla season 8. Pizza is his favorite meal. Ishan is also passionate about music and mixing. Ishan had expressed a strong desire to be a part of Splitsvilla season 9, but for unknown reasons, he was unable to do so, despite all of the hype and anticipation that his participation had created.
2. 

Vaidehi Shrivastava

Vaidehi Shrivastava is a model, Splitsvilla 8 Contestants, and reality TV contestant who works in the Indian television industry. Varanasi is where Vaidehi was born and raised. Kendriya Vidyalaya was where she finished her education. She wanted to try modeling and acting while still in high school. She grew up admiring celebrities such as Salman Khan, and. Her favorite films are the Mission Impossible franchise. She rose to prominence after appearing on season 8 of MTV's Splitsvilla. She is also a well-known model, and we will be seeing her in Bollywood soon.
3. 

Shivam Babbar

Shivam Babbar is a model Splitsvilla 8 Contestants who competed in MTV's hit show Splitsvilla for teenagers. He featured in the eighth season, which premiered on July 4, 2015. He was born on July 1, 1993, in Delhi, India's capital. He is 23 years old and was born under the sign of Cancer. He grew up in Delhi, where he attended the JD Tytler School in Rajendra Nagar. He earned a Bachelor of Business Administration (BBA) from IILM Undergraduate Business School. He practices Hinduism and has a close relationship with his father, whom he regards as an idol.

Naresh Babbar is his father's name, and Monika Babbar is his mother's name. He has a brother called Karan Babbar as well. Shivam moved to Mumbai after finishing his education to pursue a career in modeling, and he has appeared in a number of TV shows. Despite a few losses, Shivam persisted in his efforts to improve the situation. He made his debut in the iconic show 'Pyar Tune Kya Kiya,' which made him stand out and earned him fame in the television industry.

He also appeared in the soap opera 'Yeh Hai Aashiqui' and the teen drama 'MTV Warrior High.' Shivam, in addition to appearing in films, has also appeared in a few commercial TV commercials. He also walked the runway at Wills Lifestyle Fashion Week. He was the Splitsvilla 8 contestant who was the youngest. When the show's winner, Prince Narula, slapped Shivam Babbar on the frame, a lot of drama ensued. It happened when Shivam objected to another contestant, Utkarsh, dumping his girlfriend, Veronica.

Following a heated debate between Shivam and Utkarsh, Prince decided to intervene and slap Shivam. The show's hosts, Ranvijay and Sunny Leone, later asked Prince to apologize to Shivam for his misbehavior, which he did. Shivam accepted the apology gracefully and proceeded to engage in the show with the spirit of a sportsman. He was evicted from the show after Subuhi Joshi dumped him. Shivam went on to compete in another MTV reality show named "Love School" after Splitsvilla.

He returned for the second season alongside his girlfriend, Sophia Singh. Shivam is also known as Shivu or Shiv. He stands 5 feet 8 inches tall and weighs about 60 kilograms. He likes to sing and dance. He is now in a relationship with Sophia Singh, who was also a Splitsvilla 8 contestant. His interests include acting, dancing, driving, and going on exciting trips. Deepika Padukone is his favorite actress, while Emran Hashmi is his favorite star. Shivam's favorite film is Twilight. He is currently based in Mumbai.
4. 

Prathamesh Maulingkar

Prathamesh was born in Mapusa Tivim, Goa, on April 4, 1991. He's twenty-five years old. His zodiac sign is Aries. Mr.Premnath Maulingka is his father's name, Mrs.Priyanka Maulingkar is his mother's name, and Prachi Maulingkar is his sister's name. He graduated from St. Anns High School in Tivim. However, due to his outstanding football abilities, he was unable to complete his graduation.

He had always wanted to be a cricketer. But, as luck would have it, he was born with exceptional football abilities. He was chosen for the Dempo U-16 squad. In the junior nationals, he represented Goa U-19. It was then that he realized he possessed the ability to compete with the best in the world. He became more committed and concentrated on Football as a result of his sudden enlightenment. He was also invited to participate in the India U-19 camp. He also made his India U23 debut against Iraq U23 in 2012 for the purpose of qualifying for the 2013 AFC U-22 Asian Cup, playing the entire 90 minutes. However, he was shown a yellow card in the 14th minute of the game.

He was also a key member of Arrows and India U-22. Prathamesh attributes his transformation to his experience playing for India U-22. In the I-League, he is currently a center back for 'Dempo Sports Club.' Zlatan Ibrahimovic, a striker for Manchester United, is his football hero.

Because of his height, he later began posing at runway shows for numerous designers.

Among his shows are 'LIF, WIFW.' He says that if he had to choose between modeling and football, he'd do both because he enjoys both. He was most recently seen in Season 8 Splitsvilla 8 Contestants of MTV India's 'Splitsvilla,' which was hosted by Rannvijay Singh and Sunny Leone. This season's theme for this famous show was 'what women love.' Unfortunately, he was 'dumped,' and he was unable to progress in the show.

He claims that 'Splitsvilla' is the best place for people to showcase themselves. Jason Statham is his favorite actor, and Megan Fox is his favorite actress. 'Undisputed 2/3' is his favorite film. He likes to eat seafood. He enjoys visiting his hometown of Goa. He loves fishing and playing PlayStation 4 games. He prefers black and white tones.
5. 

Veronika Rajput

Veronika Rajput is an Indian DJ, Splitsvilla 8 Contestants and model who rose to prominence after appearing in the eighth season of MTV India's Splitsvilla. She was born in Delhi, India's capital city. She earned her bachelor's degree from the prestigious Delhi University. Before her debut on Splitsvilla, she began to capture the hearts of many boys by flaunting her beauty on Instagram.

She was also a model prior to appearing on Splitsvilla. Her popularity skyrocketed as a result of the Splitsvilla broadcast, and a slew of corporations approached her for a photoshoot. This is also one of the reasons for getting over 60k followers. She currently resides in Mumbai, the birthplace of Bollywood. Sunny Leone is a huge inspiration to her, and working with her on Splitsvilla was like a dream come true for her.
6. 

Anuki Tchokhonelidze

Anuki Tchokhonelidze is a beautiful Splitsvilla 8 Contestants. The season premiered on MTV's youth-oriented channel on July 4, 2015. She was born on September 5, 1991, in Tbilisi, Georgia's capital. Her zodiac sign is Virgo. She is 25 years old and stands 5 feet 9 inches tall. Her father's name is Zaza, and her mother's name is Eka. Anuki is their elder daughter, and Nika is Anuki's younger brother. She is an ardent Christian.

She received her primary education at Aia Gess High School and later graduated from Ilia Chavchavadze State University in the field of Pharmacy. She spent her entire life in her hometown before graduation, but after graduation, she aspired to begin her career in the field of modeling. Her desire to become a model drove her to leave her hometown of Georgia and relocate to India. Her mother is her biggest inspiration, and she is very loyal to her.

Anuki began to participate in several modeling shows after relocating to India. She was also a Kingfisher girl, appearing in the coveted Kingfisher Calendar for 2015, which allowed her to model for other Kingfisher shows. She also appeared in Season 2 of Kingfisher Supermodels. Anuki appeared on MTV's Splitsvilla as a contestant in Season 8 of the show, which had the theme "What Women Want." She began to exhibit all of the characteristics of a champion right from the start of the show, as she managed to impress everyone.

Her charm and apparent beauty made her a clear candidate for first place. Anuki was initially teased for being the dumbest girl on the show, but as the weeks progressed, she proved time and again that she was a strong contender for the title. Anuki dethroned Splitsvilla 6 champion Subuhi Joshi and beat the others out of the 14 girls and 16 boys, including eight who auditioned and eight celebrity guests.

She has crowned The Ultimate Queen, and Prince Narula was crowned The Ultimate King. Even after the show, she had a brief relationship with Prince, which she eventually ended. They had a strong connection and shared a romantic bond while on the show. Aside from modeling, her other passion is travel. Anuki admits that she could visit Istanbul again and again because she adores the city; she also enjoys London, especially for the shopping opportunities it provides.

When asked about her ambitions and entry into Bollywood films, she says she first wants to make a name for herself in the worlds of fashion and modeling. Varun Dhawan,, and are among her favorite actors, and Nargis Fakhri,, Audrey Hepburn, and are among her favorite actresses. Her favorite movie is Roman Holiday. She is a huge fan of Pizza and any kind of Indian fast food. She is happily single and open to the possibility of dating and falling in love. She continues to work as a model on the side in Mumbai.
7. 

Nishant Anand

Nishant V. Anand was a Splitsvilla 8 Contestants. He appeared in Season 8 of the show, which aired on July 4, 2015. He was one of the regular boys who made it onto the show after passing the auditions. He is 26 years old and was born on March 17, 1990. He was born in Delhi and raised there, where he attended Prabhu Dayal Public School. He later earned his graduate degree in law from the Faculty of Law at Delhi University. Vijay Kumar Anand is his father's name, and Sneh Anand is his mother's.

Rahul Anand, his brother, is also a musician. He is a Sikh by faith, and his family is from Punjab. Nishant was considered an instant threat after passing the auditions and joining Splitsvilla due to his deadly mix of brains and good looks. He had always wanted to be popular, and Splitsvilla provided him with the ideal forum to do so. In reality, it was MTV's show Webbed, which highlighted the dark side of the internet, that served as his television debut.

Following that, he appeared in the Channel V show "Sadda Haq" as Sarthak, but it was Splitsvilla that brought him worldwide fame. He was kicked off the show after his connection, Subuhi Joshi, dumped him. Following his time at Splitsvilla, he got many modeling and acting offers. Nishant claims to be a lawyer by training, an entrepreneur by preference, and an actor by profession. He also knows how to play the dhol.

Nishant likes to dance, fly, and work out at the gym. He is a fitness enthusiast who works hard to keep in shape. He stands five feet ten inches tall and weighs about 62 kilograms. Nishu is his affectionate name. Ranbir Kapoor is his favorite actor, and Alia Bhatt is his favorite actress. He enjoys driving and owns a Pulsa 220 RS. Ajab Prem ki Gazab Kahani is his favorite film. Munny is his nick name. On January 28, 2013, he founded Techvilla IT Services Private Limited, with headquarters in Delhi.

He is the Director of the same, and this company deals with computer-related activities such as website maintenance on behalf of other businesses and multimedia production for them. His father is his business partner and co-director. His work schedule necessitates frequent travel to exotic locations. He is avoiding the spotlight and has no plans to return to television anytime soon. Nishant wants to devote all of his time and energy to the startup.
8. 

Ravi Shukla

Ravi Shukla is a young singer who has a lot of potentials. He is one of the few performers on Indian television in a musical competition program and Splitsvilla 8 Contestants. Ravi Shukla began studying music at a young age. Ravi Shukla was just 23 years old when he was named India's Star Voice in 2008. T.Series awarded him Rs 25 lakhs, a Chevrolet car, and a three-year singing contract. Later, he gave some of his money to an orphanage. His dream was to record a song with all 12 of the show's participants as part of a deal he had signed with T.Series.

He believed that God had been gracious to him, and the encouraging response from the audience helped him win the prestigious award. His appearance is often compared to that of singer Sonu Nigam. Sonu Nigam and Kunal Ganjawala are his favorite singers. Ravi Shukla is a model who works as a freelancer. Ravi Shukla was spotted in Season 8 of MTV Splitsvilla. He is also a big fan of Shahid Kapoor and Sana Khan. Jannat is his favorite film. Previously, in 2004, the singer was chosen for the first session of the show 'Indian Idol.' Even though he did not win the competition, it helped him become a better singer. A good singing voice can always be practiced, so he enrolled in the Sa Re Ga Ma Pa Dha Ni Sa Academy in Mumbai. However, this singer was born with a stronger voice and learned faster.

He believed that a strong singing voice should be taught during all of his training sessions as a participant. In June 2005, Ravi Shukla became a disciple of Pandit Jayanto Bose. After completing his training with Pandit Jyanto Bose, he performed in many musical concerts in Europe for seven months. On November 4, 1983, the singer was born in Kolkata to Radhey Shyam Shukla and Santosh Shukla.
9. 

Gaurav Arora

Gaurav Arora, who was born into an Indian family, has recently entered the world of celebrity. Born on July 19, 1993, this Indian celebrity rose to prominence after appearing on the MTV love reality show Splitsvilla 8. He was born in Kolkata and attended St. Andrews Public School for his studies. After finishing his degree, he became interested in modeling and wanted to pursue it as a career. Gaurav's career began with photoshoots and ad films, which he used to entertain his audiences.

As a male contestant, he first appeared as a male Splitsvilla 8 Contestants, a youth-oriented show popular on MTV and among young people. He gained a lot of attention as a result of the show, which resulted in a large fan base on his social media pages. He had been a tough competitor for his Splitsvilla teammates, and he had done admirably and cheerfully. Gaurav is bisexual, meaning he is interested in both male and female genders.

Gaurav's bisexuality prevented him from attracting the female contestants' attention and attraction in Splitsvilla, but he performed admirably overall. Gaurav possesses a great deal of talent and ability. As a model, he has appeared in many commercials, including Headline's Today Show's Fit Fitter Fittest, Model for Men's Health, and others. Gaurav has a very attractive physique that is capable of shocking anyone who witnesses his photo shoot. He has participated in a number of hot photo shoots that have left an indelible impression on his fans and viewers. His creativity, potential, and determination all contribute to his ability to overcome his social discomfort with being bisexual.

Bisexuality has never been an obstacle for him, and he ends up setting a good example for others in his category.
10. 

Sharika Raina

Sharika Raina is a model, film, and television actress from India. Sharika was born on January 1, 1991. She was born in the Jammu and Kashmir city of Srinagar. She has a B. A., as well as L. L. B. and L. L. M. credentials. Sharika adores Punjabi cuisine. Hrithik Roshan is her favorite actor. Preity Zinta is her favorite star. White is her favorite color.

Her interests include dancing, singing, and watching movies. Sharika made her acting debut in Pradeep Sarkar's 2014 film "Mardaani." Rani Mukerji played the lead in the film. She was also a contestant on the show "Splitsvilla 8 Contestants." She also featured in the television show Naagin.
13. 

Abhishek Yennam

Splitsvilla on MTV is one of the most well-known Indian reality television shows Splitsvilla 8 Contestants. It has captivated the country's youth and has them hooked; Abhishek Yennam was a contestant on the show. Abhishek is a model, entertainer, and fitness enthusiast. He competed in Splitsvilla's eighth season. He auditioned for the MTV show and was chosen as one of the season's eight regular boys. His father, Murali Yennam, is also a fitness fanatic and has inspired Abhishek to work out. He's your average Daddy's baby. His mother's name is Ashwini Yennam, and he has one brother named Ishaan Yennam.

This 22-year-old sensation was born on September 26, 1994, in the town of Pune, near Mumbai. Abhishek attended Sanjeewan Vidyalaya in Panchgani and graduated with honors from the Maharashtra Institute of Technology's School of Management in Pune. Abhishek had spent a lot of time flipping between TV channels and contemplating what to do with his life before he was inspired by John Abraham and decided to start carving out muscles instead of fat on his body. Abhishek appeared in a few commercial TV ads before landing his big break in Splitsvilla 8.

The display marked his first foray into the world of glitz and glitter. He was on the verge of being eliminated from the show after Splitsvilla Queen Subuhi Joshi dumped him. He describes his time at Splitsvilla 8 as a cocktail of politics, lust, and betrayal. He enjoyed his first few days on the show when all of the contestants were polite with one another, but as time passed, he noticed that the pretense started to wear off. When Abhishek realized he wasn't the sort of person who could exploit human relationships, he started to falter. He is grateful to Splitsvilla for bringing him fame.

He is five foot ten inches tall and weighs about 60 kilograms; he never skips the gym and follows his diet plan religiously. Abhishek loves traveling and never skips a gym workout. He is obsessed with fitness and does not smoke or drink. He is affectionately known as Abhi and has been dubbed "Pune's Dwayne The Rock Johnson." He returned to Pune after his TV stint and now works as a freelancer, model, and actor there. Despite this, he wishes to place himself in a more realistic and stable environment for the future. Politics has left him disillusioned.
14. 

Ish Thakkar

Ish was born on April 4, 1992, in Mumbai, India. His zodiac sign is Aries. Mr. Hitendra Thakkar is his father, and Mrs. Bina Thakkar is his mother. In his house, he has two older sisters. He attended St. Joseph High School before graduating from HR College of Commerce and Economics with a degree in business.

He moved to China after graduation and worked for a trading firm for fourteen months. He is a model, actress, and dubbing artist by trade. He appeared in a 'Splitsvilla 8 Contestants' and then in MTV India's 'Splitsvilla' season 8 hosted by Rannvijay Singh and Sunny Leone.

For this season, the theme of this well-known show was "what women want." He was already committed outside of the show at the time, so he had to leave due to a rule violation. He describes his experience on the show as extremely beneficial. He goes on to say that the contestants are constantly in contact with the team and each other. Ish remembers getting along with others, and it remains a one-of-a-kind and different experience for him to this day. Ranveer Singh and Alia Bhatt are his favorite actors and actresses, respectively.

He loves Chinese food. 'Rockstar,' starring Ranbir Kapoor, is his favorite film. He claims that while working in China, he realized he wanted to do something different and returned to Mumbai to work as a dubbing artist. Ish usually does the dubbing for the English versions of Hindi films and TV shows. He dubbed the films 'Main Tera Hero' and the latest 'Badlapur' for Varun Dhawan, as well as films for Shahid Kapoor and a few others. He's also given the iconic TV show the moniker '.' He expresses his desire to do dubbing.

He also claims that he enjoys dubbing negative and intense characters because they provide a thrill and a lot of scope. He also plays football and considers himself a 'gym freak.' He claims that his dream travel destination is his hometown of Mumbai because he doesn't feel like leaving after living there for so long.
15. 

Viren Singh Rathore

Viren Singh Rathore was a Splitsvilla 8 Contestants on MTV's hit show Splitsvilla; he appeared in the show's 8th Season, which aired on July 4, 2015. On March 20, 1987, he was born. His astrological sign is Pisces. He stands 5 feet 10 inches tall and weighs 62 kilograms. He is a Hindu Rajput originally from the Rajasthan town of Jaipur, but he respects all religions. Viren attended Tagore Public School, Vaishali Nagar in Jaipur, and later graduated with honors in Commerce.

He is a family man who regards his father as an idol. Randhir Singh Rathore is his father's name, and Sushila Kanwar Rathore is his mother's. Veeru is his affectionate name. He has two other siblings, a younger brother and an older sister, who live in Jaipur. Viren had a successful modeling career prior to joining Splitsvilla. He had worked on major banner assignments and walked the runway for Lakme Fashion, Blender's Fashion Pride, Van Heusen Men's Fashion Week, and Wills Lifestyle.

He has featured in a number of television commercials for Bajaj Pulsar, Indigo Airlines, and Reliance Mobiles. He also won the Zoom Fashion Drill. He was a well-known model with a distinct sense of style. Viren has also appeared in TV shows such as 'Shapath,' 'Sapne Suhane Ladakpan Ke,' 'Pyar Tune Kya Kiya,' 'Itti Si Khushi,' 'Talaash,' and 'Code Red.' He made his television debut in the show 'Pyaar Tune Kya Kiya.' In the show 'Mastaangi,' he played Ricky Nanda, a young, daring, and macho character. His character is identical to Fawad Khan's in 'Kapoor & Sons,' and he said that he felt fortunate to be a part of a show that had such an impact on the youth. He was the celebrity boy inducted into Splitsvilla 8's house.

He had to leave the show because he was in a relationship at the time of filming. Since it is a cardinal rule of Splitsvilla that contestants who are in a serious relationship outside of the villa are not permitted to participate in the show, Viren was asked to leave. He later admitted in an interview that he did the show to gain fame and build a fan base.

He claims that from the start of the season, he stated unequivocally that he did not intend to find love, but rather to become famous and discovered as an actor. Viren likes to cook, drive, and listen to music. He also loves technology and is madly in love with his prized possession, an iPhone.

He is currently single, but he prefers to focus on his career before considering relationships. He enjoys eating home-cooked meals, particularly when they are prepared by his mother. He wishes to spend all of his time traveling, especially to hill stations. He is really interested in fitness, bodybuilding, and body sculpting. When he is not auditioning for daily soaps, he loves keeping up with the latest seasons of Splitsvilla. He claims to be a versatile actor who is ready to take on any role; he also expresses a desire to join the glitz and glam of Bollywood.
16. 

Amaad Mintoo

Amaad was born on June 25, 1993 in Jammu, India. He has a 22-year-old son. His zodiac sign is Cancer. He is currently based in Mumbai. Mr.Tanveer Mintoo is his father, and Mrs.Ruksana Mintoo is his mother. He has a niece as well. He attended Green Model Academy, a high school, for his education. He also has a BBA and is a graduate. He is a model and actor by trade.

He has starred in a number of documentaries and television shows. He was most recently seen on MTV's 'Splitsvilla 8 Contestants' season 8 hosted by Rannvijay Singh from MTV Roadies and Sunny Leone. For this season, the theme of this famous show was 'what women love.' Unlike the show's regular style, the roles of men and women were reversed in this season, giving women complete power to make their own decisions. Ammad, on the other hand, was 'banished' and eventually lost to the other boys present at the show.

Amaad suggests that 'Splitsvilla' is a place where one can better understand oneself. Aside from 'Splitsvilla,' he has starred in a few other shows, including MTV India's 2015 show 'Warrior High.' The show follows the lives of a group of boarding school students. It seeks to draw attention to the problems, conflicts, and relationships that they face. In the film, Amaad portrayed a character called Ayaz Ahmed. Following that, he appeared in MTV India's show 'Webbed.' The program, like all other MTV series, revolves around the theme of cyber bullying and is aimed at a young audience.

He appeared on UTV Bindaas' 'Super Dude,' which features male contestants performing tasks to impress females, as well as the show 'Pyaar Tune Kya Kiya.' He has featured in commercials for companies such as 'Airtel,' 'Monte Carlo,' 'I ball,' 'Yep me,' 'Tata Nano,' 'Myntra,' 'Greenply,' 'Lenovo,' 'Royal Stag,' 'Hero,' and others. He's also posed for 'Lakme,' 'Wills,' and 'Van Heusen.' Amaad's favorite actor is Shah Rukh Khan, and his favorite actress is. 'Dilwale Dulhania Le Jayenge' is his favorite film. He prefers the color black the most.

He describes his father as his hero, and he enjoys spending time with his family.

He also enjoys dancing, listening to music, and going out to parties.
17. 

Paras Chhabra

Paras Chhabra is an Indian actor and model who rose to prominence on reality television shows such as 'Splitsvilla' and 'Naach Baliye.' This 25-year-old Delhi-based model has featured in several designer and print shows, as well as walked the runway for a number of well-known designers. He has also featured in advertisements for well-known brands such as Loreal, Parker, Dennis, and Lagan, as well as a minor role in the film 'Midsummer Midnight Mumbai.'

He is recognised in the modeling industry as the most attractive guy, and it didn't take long for him to become the hunk of the reality TV show 'SplitsVilla.' 'Splitsvilla 8 Contestants' was the Indian version of the American television show 'Flavor of Love,' and Paras appeared in the fifth season of the show with the girl Akanksha and won the title after a tough fight. He met Sara Khan, his long-term girlfriend, during another season of the same reality show, and they remained close and intimate for a long time before they split up in April 2015 for undisclosed reasons. The couple was expected to bring their feet together for the upcoming season of the reality show 'Naach Baaliye,' but that is highly unlikely now that they have broken up.
18. 

Zaan Khan

Zaan Khan, an Indian actor from Bhopal, Madhya Pradesh, has recently gained a lot of fame through his work in a few soap operas and reality shows. He was a strong competitor on the reality show "Splitsvilla 8," where he was embroiled in a few scandals and was not the most popular person among the other Splitsvilla 8 Contestants.

Khan's fan base grew during and after the show, despite the fact that he did not win. He was also seen in the 2013 Prakash Jha film "Satyagraha," which starred Ajay Devgan, Arjun Rampal, Kareena Kapoor, Manoj Bajpai, and others. While Zaan Khan had a minor role in the film, not only was his work appreciated by the audience, but he also had the opportunity to work with many prominent Bollywood personalities.

Khan has also appeared in two television shows, "Chalti Ka Nam Gaadi" and "Jhalli Anjali Ke Tootey Dil Ki." "Chalti ka Naam Gaadi" aired on Sab Tv in India and was well received by the Indian audience. The plot revolves around a family and how a new car changes their lives. Khan had a small part in this film. "Jhalli Anjali Ke Tootey Dil Ki" was a Channel V show that was also popular among young people. The show focuses on Anjali, a character based on Karan Johar's popular film "Kuch Kuch Hota Hai."

The story revolves around what happens after a heartbreak and how Anjali handles it. In this film, Khan portrayed Dhruv. Despite the fact that Zaan Khan is new to the industry, he has earned a lot of love and support from his fans and has worked on some successful projects. The audience anticipates seeing more of him in the future.
19. 

Utkarsh Gupta

Utkarsha Gupta, a newcomer, plays Dhruv Vedant in the MTV show Kaisi Yeh Yaariyaan. He is a member of the FAB5 Band who becomes the best friend of the main lead Manik Malhotra and later develops feelings for Nandini. The plot revolves around young people's college lives and their perspectives on friendship, marriage, and society.

When asked in an interview how it feels to be working in a serial for the first time. He admits that facing the camera for the first time made him nervous, but he has since gained confidence and enjoys his job. He also fosters good relationships among his team members, and this actor appears as the eighth season celebrity Splitsvilla 8 Contestants of MTV Splitsvilla, which leaves Sunny Leone speechless with his amazing dance act on the song "Abhi Mujhme Kahin."

Utkarsh is a professional dancer who competed in the Zee TV Dance Reality Show, Dance India Dance, in 2009.
A +2 student at Modern School Barakhamba Road in New Delhi is now concentrating on his studies.
20. 

Prince Narula

Prince Narula is a well-known television personality and model. He was born on November 24, 1990. He got his start in the modeling industry. His hometown is Chandigarh, where he began his modeling career. He is best known for his award-winning appearances on several television reality shows.

Mr. Punjab 2014 was one of his very first such projects. He did not win the competition, but he finished third, making him the show's second runner-up. Later, he appeared in the 12th season of MTV Roadies, an action-packed TV show. MTV Roadies X2 was another name for the program. His creativity and opportunism landed him this reality show. He received a motorcycle as well as a large cash reward. The cash award was 5 lakh rupees. In the early months of 2015, MTV Roadies X2 took place. Finally, he was able to put twenty-one other Splitsvilla 8 Contestants from the show behind him. MTV India, the show's creator, was a TV station. It was also aired on the same channel. Because of his impressive victory here, he was awarded the title of 'Ultimate Roadie.' His success didn't end there. He went on to appear in another MTV reality show called Splitsvilla. Spiltsvilla is a dating show with a core theme. It was strongly influenced by the American show Flavor of Love. The show's anchors are the stunning Sunny Leone and Rannvijay Singh. He went on to win this show as well. Because of his victory, he was dubbed the "Ultimate King." He received his award alongside Anuki Tchokhonelidze. Anuki was given the title of 'The Ultimate Queen.' This occurred in the year 2015. Splitsvilla was in its eighth season.

In October of 2015, he auditioned for another reality show called Bigg Boss. Bigg Boss is a popular show in India. The style is similar to Big Brother, another reality show that began in the Netherlands. His TV experience and talent won him the Bigg Boss trophy as well. It was the ninth season of Bigg Boss. He recently appeared in Roadies X4, which is currently filming in 2016. The show hasn't ended yet, and he's made significant strides so far. In the film, he is the Gang Leader. It is the thirteenth installment of Roadies. Gaelyn Mendonca is the show's anchor.
21. 

Harshita Kashyap

Harshita Kashyap is an Indian actress and model best known for appearing as a Splitsvilla 8 Contestants on MTV Splitsvilla Season 8. She was born on September 11, 1993, and attended St Mary's School and Delhi Public School as an infant. She then earned her Bachelor's degree from Delhi University and went on to complete her MBA. Harshita started her modeling career as a freelancer, but thanks to her talent and hard work, she was able to work with renowned designers such as Night Mishra, Sahil Nayar, and Preeti Chandra. After wowing audiences with her looks and personality in Splitsvilla, it is anticipated that she will make her big screen debut with the film Lipstick and Arranged Marriage.
23. 

Enakshi Sharma

Enakshi Sharma is a Splitsvilla 8 Contestants, Indian actress, model, and anchor who rose to prominence after competing in the reality television show Splitsvilla Season 8. While she didn't last long in MTV's romance-themed series, she was popular with all of the male contestants and left an impression during her brief stay at the Villa. She was a positive public speaker as a child, and she won the Nokia Challenge Radio Show with 94.3 FM. She then began hosting open events, news conferences, and corporate shows. We soon saw her at celebrity meet-and-greets, beauty pageants, and fashion shows. She got a chance at Splitsvilla after competing in Miss Meerut 2008 and May Queen 2009.
24. 

Ashmita Singh

Ashmita Singh is an Splitsvilla 8 Contestants, Indian model and actress who rose to prominence as a contestant on the reality show Splitsvilla. She was born on December 30th to a Punjabi family in Delhi. She attended Holy Child Senior Secondary School in Delhi before enrolling in St. Stephens College at Delhi University to pursue a BA in Economics. Following that, it was revealed that she studied law and earned an LLB with honors. She has been employed in TV commercials since being eliminated from Splitsvilla Season 8 at an early stage. During this time, she was crowned Miss Teen India Beautiful Hair.
25. 

Reshu Singh

Reshu Singh is a model who is young, talented, and daring. She was born on August 31, 1992. She is truly stunning, hot, and daring, and all of these wonderful qualities aided her in making her television debut. Her first break came on the iconic MTV show Splitsvilla season 8, hosted by Rannvijay Singh and Sunny Leone. Reshu Singh is a Delhi NCR native as well as a well-known face from India's capital city, New Delhi. She is a rising star in the world of glamour. She dazzles others with her talent and elegance. She has a diverse range of work experience, having performed ramp Walks for brands such as Auriea, Auto Expo, and Nitin Bedi events. She was also one of the top ten finalists at Ignite MS Northern India 2013 and one of the top twenty-five finalists at Campus Princess. Reshu Singh was one of the most successful Splitsvilla 8 Contestants, and she received a lot of limelight on the show. The model seems to be on the rise as a top model in the coming years.
26. 

Mia Lakra

Mia Lakra is a model and entrepreneur from India. She was born on September 25, 1992, in New Delhi, but she is a Roman Catholic. She attended Mater Dei School in New Delhi for her education. Her degree is in B. A. Hons. Journalism and a postgraduate diploma in English journalism are also from the Indian Institute of Mass Communication in New Delhi. Her father works for Doordarshan. Kriti Lakra and Sudeep Lakra are her brothers and sisters, respectively. She began modeling when she started college in 2010.

She made her television debut in 2015 on Splitsvilla 8 Contestants, where she won the award for Best Stylish Youth Girl of Splitsvilla. She also participated as a wild card entry in MTV Splitsvilla Season 9 in 2016. She used to be self-conscious about her dark skin tone, but it turned out to be an advantage that landed her a spot on MTV Splitsvilla. She is inspired by models such as Naomi Campbell and Carol Gracias. She also admires Priyanka Chopra for her success as a self-made woman. Mia aspires to be Bollywood's equivalent of Priyanka Chopra.

She owns a clothing shop called 'Mammamia.' She has appeared on MTV, Channel V, Big Magic, and NDTV Benefit, among other channels. She also has exceptional acting abilities. She is a fitness enthusiast who enjoys working out and sticking to a schedule. Aside from that, she enjoys dancing, listening to music, and traveling to new locations. Her father and sisters are her staunchest supporters, always standing by her side like pillars.

She founded The Mia Lakra Grooming Institute, where she trains aspiring actors and models for their careers. She works to make them more self-assured, courageous, and independent. She is very involved in her social media accounts.
27. 

Priyanka Bora

Priyanka, who was born on February 6, 1994, in Guwahati, Assam, adores her parents, particularly her mother. In reality, she looks up to her mother as a role model. She is a tall person, standing at 5 feet and 6 inches and weighing approximately 54 kilograms. Her eyes and hair are both naturally black. She completed her education at Kendriya Vidyalaya Panbari Dhubri in Assam before moving to Delhi to complete her B.Com degree at Delhi University. However, while she was studying in Delhi, she also started her career. She began her career as a cabin crew member while also pursuing her studies. She took her first move as a freelance model, and within a short period of time, she began accepting requests for commercial advertisements. She has also participated in modeling competitions such as Miss North East, Miss Puberein, and others, but has not fared well.

She did not give up hope, however, and soon became the lead actress in the Assamese television series "Bodhi." She was also seen in an MTV show called "Splitsvilla 8" (which aired in 2015) where she was always excited about performing tasks assigned to her. Priyanka enjoys dancing, shopping, reading, and traveling. She is, in reality, a professional dancer with classical music training. Her singing abilities can also be seen in her online interviews, where she is seen singing in her native language. She enjoys eating Indian cuisine. She enjoys Rajma rice just as much as any other Indian teen. Red, white, blue, and pink are among her favorite colors. She admires actors such as Varun Dhawan, Shahrukh Khan, and Deepika Padukone.

She is also a devout follower of the Christian faith. She is a water baby since she is an Aquarian. Priyanka likes swimming in the seas. Her Instagram following is very high, with 49.6k followers, and she posts a lot of selfies with friends and family. Her Instagram feed is also full of travel photos from various locations. She's still very popular on Facebook and other social media platforms. Her photos often show how much fun and friendliness she has as a human. She is a firm believer that everything happens for a reason. Her life motto is to forge her own identity so that she can make her mother proud.
28. 

Sophiya Singh

Sophiya Singh appeared on Splitsvilla 8 Contestants, a superpopular youth-centered show about Love and Betrayal. Sophiya first appeared on the show in the eighth season. She is a 21-year-old woman who was born on October 1, 1995. Piyush Singh is her only sibling. She is of Punjabi origin. Her family has always been supportive of her choices, and she is her mother's Doll and her father's Angel. Despite being born in Noida, this Delhi mundi was raised in New Delhi, where she attended the Sarla Chopra DAV Public School. She holds a Bachelors of Business Economics degree from the Birla Institute of Technology, Ranchi, and is currently pursuing a Post-Graduate degree from the Birla Institute of Technology, Noida.

She has been crowned Miss Eco Universe India and placed among the top 30 contestants in Femina Miss India. Sophiya started her career as a freelance model, winning a few beauty pageants such as Miss India Campus Princess and Miss North India. Asha Bhatt, Miss Supernational, is her idol. Wills Lifestyle's Sophiya walked the runway. She made her television debut on Splitsvilla 8, where she was a wild card entry contestant. Splitsvilla, she thought, was a regular forum for her to start a serious modeling and acting career.

Sophiya quickly became one of the many fierce contenders for the role of Queen at Splitsvilla. Her breathtaking beauty enchanted everyone. However, she was eliminated because her partner, Yash Pandit, had to leave the show. Sophiya and Yash seemed to have several problems that contributed to her demise. She is a women's rights activist who advocates for animal cruelty-free care. Sophiya is a talented dancer with an interest in art and history. This lovely lady enjoys, and Tom Cruise.

She loves traveling and would like to take a world tour. She enjoys stuffing her face with fast food such as pizza. She stands 5 feet 3 inches tall and weighs about 52 kilograms. She is a brainy beauty who loves reading in her spare time. She maintains a close link to her humble beginnings. Sephu is her nickname. Sophiya remains in Noida and intends to pursue a career in modeling before transitioning to Bollywood. She is fluent in English, Hindi, and Punjabi. She has also appeared with her boyfriend, Shivam Babbar, on another MTV reality show. Her favorite meal is cheesy pizza.
29. 

Subuhi Joshi

Subuhi Joshi is a model, Splitsvilla 8 Contestants, actress, and disc jockey from India. She was born in Mumbai on October 29, 1992. She is well-known for her participation in the MTV reality show Splitsvilla. Subuhi is the daughter of Meenu Joshi, a television actress. She lived in New Delhi for the majority of her life. She attended the Cambridge School in Delhi. She went to the University of Delhi for education, where she majored in English. Subuhi made her first television appearance at the age of four in the show Nimantran, which aired on Doordarshan.

Subuhi first appeared on television in the second season of the reality show Big Switch, which aired on the channel UTV Bindass in 2010. The program, hosted by Genelia D'Souza, was about the issue of wealthy children. The contestants had to swap parents for 48 hours during the second season. In 2013, she also featured on the reality show Video Wars, which aired on UTV Bindass. Subuhi rose to prominence after appearing on the MTV reality show Splitsvilla. She appeared in the sixth season of Splitsvilla, which premiered on May 25, 2013. Her pairing with was well-liked by the audience, but they were eliminated by Prabhjot Sahota and Shatakshi Joshi.

Subuhi appeared as the Queen as a wild card entry in season 8 of the MTV show. She was liked by the audience but hated by the other contestants due to her frank demeanor. After being eliminated for losing an underwater challenge against Karishma and Zaan, she was replaced as Queen by Karishma Talwar. Subuhi portrayed Satyawati, Bhade's assistant, in the Zee TV comedy show that aired in 2013. In 2014, she also appeared on the Life Okay parody series Comedy Class. In 2015, she portrayed Angela Fernandes Rawani in MTV India's Warrior High.

She has also appeared in Bindass' Emotional Atyachar, BIG Magic's Love Dosti Dua, Gumrah: The End Of Innocence, Zing's Pyar Tune Kya Kiya, Aye Zindagi, and Channel V India's Confessions Of An Indian Teenager. Subuhi made an appearance in the Punjabi music video Woofer in 2014, alongside Roadies 8 contestant Harshit Tomar and Upz Sondh. She also co-founded Awesome Twosome, a bi-weekly online site, with Splitsvilla 6 contestant Shatakshi. Subuhi was the DJ at the Rang De Basanti Holi festival event on March 13th, 2017 at the Nalban Food Park in Kolkata, as well as the Summer Sundower '17 event on April 9th, 2017 in Delhi.
30. 

Karishma Talwar

Karishma was born in Dehradun on February 8, 1993. She is a big kid, standing 5 feet 5 inches tall. Kishi is the nickname given to her by her parents, Mr. R.K. Talwar and Mrs. Anita Talwar, and she has two siblings. She received her education at Scholar's College, a Dehradun-based convent school, and graduated from Doon University. She is a fun-loving girl who enjoys Punjabi cuisine. Her zodiac sign is Aquarius, and her numerology number is 8. She enjoys traveling, and her dream destination is Europe. Aside from traveling, she enjoys reading, dancing, and shopping. She is a professional Kathak dancer, as well as a flutist, bugle player, and altering player.

Her favorite actors and actresses are Ranveer Singh and Priyanka Chopra, and her favorite films are "Never Back Down," "Ladies vs Ricky Bahl," and "Troy." She works as an anchor, freelance model, and shopping guide. She began her career with the UTV Star Production show "Lux The Chosen One." She later appeared on an MTV Splitsvilla 8 Contestants called "Splitsvilla 8," where she became well-known for her bold and fiery remarks. This is why she was dubbed the "wicked queen" on the show. It was on this show that she boldly declared herself to be bisexual, and there was no turning back after that. It wasn't until after Splitsvilla that people began to notice her. She is now working as a shopping guide for Home Shop18.

She used to host live events in the private sector before acting as a shopping guide for Home Shop18. Karishma Talwar maintains that there is no path to success and that the only way to be successful is to work hard. Karishma, like everyone else, wishes to make a name for herself. Her ultimate goal is to make a name for herself in Bollywood and make her parents proud. Karishma still has a large fan base on Instagram, Facebook, and Twitter, and she posts pictures on these platforms on a regular basis. She is seen posing a lot on her Instagram pictures because she has a lot of followers. She also has a snapchat account on which she is very engaged. She is the life and soul of every crowd, and she always has a good outlook on life. She has a heart that is overflowing with affection.
31. 

Sana Sayyad

Sana Sayyad was born in Mumbai and rose to prominence after appearing on a reality television show. Yaquib Sayyad gave birth to her on October 29, 1997. She has two younger siblings: a brother and a sister. She started her education at S. C. D. Barfiwala High School and went on to graduate from Mithibai Motiram Kundnani College of Commerce and Economics. She had always wanted to act and be a part of the glamour world since she was a teenager. Ranveer Singh and Ranbir Kapoor are two of her favorite actors. Among the actors, she admires Alia Bhatt.

She made her television debut as a contestant on Splitsvilla 8 Contestants reality show Splitsvilla, where she was named runner-up. After winning the competition in 2015, she starred as Ashita in Big Magic's Boyz Will Be Boyz alongside Ashwini Koul the following year. Her talent was noticed by Star Plus in 2016, and she was offered the role of Aditi in the serial, Jaana Na Dil Se Door. Then she played the role of Amrit Kakkar in Star Bharat's "." She was now a member of the Star family, and as such, she was offered the role of Dristi Sharma in Star Plus' supernatural serial, "Divya Drishti," in 2019, alongside Nyra Bannerjee and Adhvik Mahajan.
32. 

Rannvijay Singh

MTV Roadies' Ranvijay Singh is a prolific television host. He has firmly established himself as the show's star, and he is well-known for his good looks, tough attitude, and charming disposition. He comes from an Army family and was about to enter the army after graduating from college. However, he tried his luck at the MTV Roadies Season 1 to win a Karizma Bike and was successful. Following that, Splitsvilla 8 Contestants offered him the opportunity to host the show, which he eagerly accepted.

However, his film career has not been as good as his television career, with most of his films failing to perform well. He made a movie called Toss: A Flip of Destiny, but it went unnoticed. Then he did London Dreams, which did not go over well, and the fate of his subsequent films has been similar.

Ranvijay has also dabbled in advertising and has amassed a sizable fan base as a result of his efforts. Ranvijay is passionate about motorcycles and has admitted that he enjoys dating. He was recently involved with MTV VJ Anusha Dandekar, but the couple has confirmed that they are no longer dating and are simply friends. However, he has always been in the news for the right reasons and has done an excellent job of projecting his profile. He appears to be a chocolate boy. His roadie portrait, on the other hand, gives his personality a sense of machism.
33. 

Sunny Leone

Sunny Leone, a well-known pornstar, has recently made her way into the world of Bollywood. Karenjit Kaur Vohra was born in Canada in May 1981 to a Punjabi family. She attended a Catholic school before enrolling in college to study Paediatrics. She previously worked at a German bakery and then at a retirement and tax company before entering the porn industry. Sunny Leone has appeared in over 56 adult films to date. She was named 'Penthouse Pet of the Year' in 2003 and is now one of the top porn stars of today. In addition to acting, she has directed a number of adult films. She also owns her own production company and plans to make adult films in the future. She appeared on the Indian reality show Bigg Boss in 2011. Director Mahesh Bhatt noticed her and offered her a role in his upcoming film. In 2012, she made her first appearance in a Bollywood film, 'Jism 2'. She has appeared in a variety of TV shows and is now regularly seen in Hindi films. Her recent films include the horror film 'Ragini MMS 2', the comedy thriller 'Jackpot,' and the thriller drama 'Ek Paheli Leela.'

Sunny Leone has appeared in a few Hollywood films. Leone hosted Seasons 7 and Splitsvilla 8 Contestants of the hit reality show 'Splitsvilla.' Daniel Weber, her boss, is her husband. She is very athletic and enjoys sports and exercise. She used to play hockey with the boys when she was younger. Sunny Leone also participated in soccer. She enjoys ice hockey and horseback riding. Sunny Leone was selected as a model for the sports brand 'Fantasy Fitness due to her passion for sports and fitness.
34. 

Nikhil Chinapa

Nikhil Chinapa is one of the most well-known faces on Indian television, owing to his work for the iconic music channel MTV. He is highly adaptable and works in a variety of positions in the entertainment industry, including video jockey, radio jockey, and TV presenter. He is also a DJ and runs a company called Submerge Music, which aims to help aspiring DJs find their footing.

The Bangalore native rose to prominence while hosting a famous request show called 'MTV Select,' which aired on MTV in the late 1990s and early 2000s. Since then, he has hosted many popular shows, including MTV Roadies, a popular reality show focused on physical strength, Splitsvilla 8 Contestants, a reality show based on the chemistry between couples, and India's Got Talent, another reality show featuring talents from across the world. On famous radio channel 94.3 Radio One, he hosted the radio show In the Mix with Nikhil Chinapa. However, due to unforeseen circumstances, the show was canceled. Chinapa also hosts electronic dance music (EDM) shows on a few online outlets. Aside from all of this, he has appeared in a few Bollywood films.

At the moment, he is focusing on the growth of India's Electronic Dance Music scene. Submerge, his business, organizes music festivals and gigs on a regular basis, with a focus on EDM. Nikhil's most recent music festival, the Supersonic Festival in Goa this past December, was organized by him. His career has been riddled with scandals, but he has persevered and is still going high.
35. 

Yash Pandit

Yash Pandit is a Bollywood television actor who has been involved for some time now, appearing in a number of hit serials and films. He was born on September 20th, 1977, and has played the lead role in the films, Rok Sako, To Rok Lo. He also played the lead in the Bengali film Faltu. However, he is well-known and well-known for his appearance in the mega-hit TV series.

He is the only son of his parents, who also have two daughters, Shraddha Pandit and Shweta Pandit, both of whom are well-known playback singers in the Bollywood industry. He began his career in the industry at a very young age. Yash played Mandakini's son in Raj Kapoor's film 'Ram Teri Gangi Maili,' and he also played a significant role in Chetan Anand's film 'Haathon Ki Lakeeren.'

He also rose to prominence after a successful appearance on the dance reality show 'Tyohaar Dhamaka,' which aired on the 9X channel. He has not only acted in films and danced, but he has also done TV serials such as 'Ghar Ki Lakshmi Betiyann' and 'Hum Dono Hain Alag Alag' in addition to 'Kyunki Saas Bhi Kabhi Bahu Thi'. In addition to these assignments, he has appeared in the Star Plus soap opera 'Tere Mere Sapne.' He did, however, play the male protagonist in 'Savitri,' which aired on Life OK alongside Riddhi Dogra.
36. 

Karan Kundra

Karan Kundra is an Indian television actor who is dashing, handsome, attractive, stylish, and versatile. On October 11, 1984, he was born in Jalandhar, Punjab, India. Since his debut in 2009, this Punjabi boy has ruled the small screen. Born into a wealthy Punjabi family, this Punjabi Munda hails from Jalandhar and is a great blend of desi and western in terms of personality and appearance. He has the personality as well as the ability to become a star. In 2009, he made his debut as Arjun Punj in the romantic drama serial Kitani Mohabbat Hai.

Karan has stunning looks as well as a flexible mind. He was a prolific model and businessman in addition to rocking the small screen. Karan Kundra owns and operates an international call center as well as a profitable infrastructure company. He is the family's youngest member. Karan Kundra has three wives, and despite his celebrity, he is responsible enough to provide for his family.

As a Punjabi brat, he is well received by the Punjabi film industry, and he has appeared in many hit Punjabi films as well as many popular TV shows. From 2009 to 2010, he starred as Veeru in Sony Entertainment Television's Bayttaab Dil Kee Tamanna Hai, followed by the thriller TV series Aahat in 2010. On Sony TV, he portrayed Harsha Khandeparkar. In 2010, he was one of the Mast Kalandar Boys on Season 2 of the dance reality show Zara Nachke Dikha. The following year, he was cast in the second season of Kitani Mohabbat Hai. He plays the quiet and timid Arjun Singhania, the son of an accused thief who falls in love with a chirpy girl named Arohi. He was also given the opportunity to host a television crime series called 'Gumrah End of Innocence,' which he excelled at.

In 2012, he starred as Karan Kapoor in the 12th episode of the Star Plus anthology series Teri Meri Love Stories, followed by the India soap V t Serial on Channel V India. He is currently working on MTV India's new thriller show, Splitsvilla 8 Contestants. Karan Kundra played Vivan, a heartbroken vampire who was orphaned when he was young. He says Fanaah has made him feel sexier. Karan Kundra has a sizable fan base, which is expected to grow significantly. Karan, in addition to doing television shows, has also appeared in a few films, including the Punjabi musical film 'Pure Punjabi' in 2012. In 2013, he also made his Bollywood debut as the lead male character of Neel in the dramatic horror film 'Horror Story.' Karan did Jatt Romantic and Control Bhaji Control the same year, followed by Mere Yaar Kaminey in 2014.

Karan recently co-hosted an episode of MTV Webbed with. This display catapulted the two to fame. This is also the episode in which Karan and Kritika fall in love but ultimately split up after the show. Karan was also rumored to be married to Aanchal Singh, a Delhi stylist.

He can currently be seen as one of the mentors in MTV Roadies.

Also Read: