German ship completes historic Arctic expedition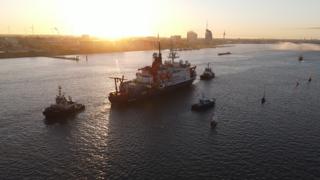 The German Research Vessel Polarstern has sailed back into its home port after completing a remarkable expedition to the Arctic Ocean.
The ship spent a year in the polar north, much of it with its engines turned off so it could simply drift in the sea-ice.
The point was to study the Arctic climate and how it is changing.
And expedition leader, Prof Markus Rex, returned with a warning. "The sea-ice is dying," he said.
"The region is at risk. We were able to witness how the ice disappears and in areas where there should have been ice that was many metres thick, and even at the North Pole – that ice was gone," the Alfred Wegener Institute scientist told a media conference in Bremerhaven on Monday.
RV Polarstern was on station to document this summer's floes shrink to their second lowest ever extent in the modern era.
The floating ice withdrew to just under 3.74 million sq km (1.44 million sq miles). The only time this minimum has been beaten in the age of satellites was 2012, when the pack ice was reduced to 3.41 million sq km.
The downward trend is about 13% per decade, averaged across the month of September.
"This reflects the warming of the Arctic," said Prof Rex. "The ice is disappearing and if in a few decades we have an ice-free Arctic – this will have a major impact on the climate around the world."
The €130m (£120m/$150m) cruise set off from Tromsø, Norway, on 20 September last year. The project was named the Multidisciplinary drifting Observatory for the Study of Arctic Climate (MOSAiC).
The idea was to recreate the historic voyage of Norwegian polar researcher Fridtjof Nansen, who undertook the first ice drift through the Arctic Ocean more than 125 years ago.
RV Polarstern embedded itself in the ice on the Siberian side of the Arctic basin with the intention of floating across the top of the world and emerging from the floes just east of Greenland.
In the course of this drift, hundreds of researchers came aboard to study the region's environment.
They deployed a battery of instruments to try to understand precisely how the ocean and atmosphere are responding to the warming forced on the Arctic by the global increase in greenhouse gases.
Coronavirus only briefly interrupted the expedition – not by making participants ill, but by obliging the ship at one point to leave the floes to go pick up its next rotation of scientists. Other ships and planes were supposed to deliver the participants direct to RV Polarstern, but international movement restrictions made this extremely challenging in the early-to-middle part of this year.
Despite the hiatus, Prof Rex declared the MOSAiC project a huge success.
The mass of data and samples now in the possession of researchers would make the modelling they use to project future climate change much more robust, he explained.
It was as if the MOSAiC scientists had been shown the inner workings of an intricate clock, he said.
"We looked at all the different elements, down to the different screws of this Arctic system. And now we understand the entire clockwork better than ever before. And maybe we can rebuild this Arctic system on a computer model," he told reporters.
Cast Of Cunk On Earth: Who Are the Characters in the Comedy Series
Cast of Cunk on Earth is a British comedy series which follows Philomena Cunk, an inept yet hilarious presenter, as she explores human history and invention. Along her journey she meets various experts who attempt to explain complex topics to her with hilarious results. Cunk was written and directed by Christian Watt and first premiered on Netflix in 2022 – garnering rave reviews from critics as well as audiences alike.
The Main cast of Cunk on Earth includes
Diane Morgan stars as Philomena Cunk
Diane Morgan stars as Philomena Cunk, the protagonist and narrator of this series. As Philomena, Diane asks experts hilarious yet often inappropriate and laugh-inducing questions while mispronouncing words, inventing facts or misinterpreting concepts. Furthermore, Diane provides voiceover commentary during each episode adding her opinions and insights on various subjects. Morgan is a British actress, comedian and writer known for roles such as After Life, Mandy Motherland as well as Charlie Brooker's Weekly Wipe among many other roles.
Jim Al-Khalili portrays himself
Jim Al-Khalili portrays himself, an academic at the University of Surrey specializing in public engagement in science. As one of Cunk's frequent experts to interview, Al-Khalili appears in four out of five episodes and attempts to educate Cunk on topics including Big Bang cosmology, evolution, gravity, electricity and space exploration; though often baffled by Cunk's questions and comments. Al-Khalili himself is British-Iraqi physicist author broadcaster who has presented several documentaries as well as radio shows dedicated to this subject matter.
Shirley J. Thompson plays herself
Shirley J. Thompson plays herself, an established composer and conductor. She appears in four out of five episodes as Cunk interviews her as an expert on music history and theory; such as classical music, opera, jazz and rap music history and theory. Thompson also provides Cunk with various instruments like violin and piano for Cunk to use during performances; she hails from British-Jamaican origin and has composed works for orchestra, choir, film and television productions.
Cunk on Earth features an ensemble cast that includes experts across various fields – history, art, philosophy, politics and religion among them – whom Cunk interviews for each episode. Hear their perspectives! They include:
Douglas Hedley stars as himself
Douglas Hedley stars as himself, an assistant professor of religious philosophy at Cambridge. In three episodes he attempts to provide Cunk with insight into various religious concepts like God, faith, morality and miracles.
Brian Klaas stars in two episodes as himself
Brian Klaas stars in two episodes as himself, an associate professor in global politics at University College London. In both instances he attempts to explain various political concepts such as democracy, dictatorship, war and peace to Cunk.
Ashley Jackson stars as himself
Ashley Jackson stars as himself, an esteemed professor of imperial and military history at King's College London. In two episodes he attempts to provide Cunk with insight into historical events such as the Crusades, British Empire and World War II.
Nigel Spivey plays himself
Nigel Spivey plays himself, an expert lecturer of Classics (Classical Art and Archaeology) at Cambridge. In two episodes he attempts to provide explanations to Cunk about various ancient civilizations such as Egypt, Greece and Rome.
Ruth Adams portrays herself
Ruth Adams portrays herself, appearing in two episodes and trying to educate Cunk about various aspects of modern culture such as fashion, cinema and social media.
FAQ: The Ultimate Guide to Your Questions
Q: Is Cunk on Earth a documentary or a comedy?
A: Cunk on Earth is a comedy series that mocks documentary formats by using real footage and interviews of real experts while adding fictional commentary and questions from Philomena Cunk herself.
Q: Who is Philomena Cunk, real or fictional?
Philomena Cunk was created by Diane Morgan and Charlie Brooker as a fictional character that first made her appearance in Charlie Brooker's Weekly Wipe as a parody reporter commenting on current affairs.
Q: How many episodes does Cunk on Earth contain?
A: Cunk on Earth has five episodes, each lasting around 30 minutes, that make up its story: In the Beginnings; The Age of Wonder; Rise of Machines; The Age of Now and The End of the World.
Q: Where can I watch Cunk on Earth?
A: Cunk on Earth can be found streaming on Netflix, with some trailers available on YouTube as well.
Q: Will there be another season of Cunk on Earth?
A: Although no official confirmation has been given yet, both creators and cast have expressed interest in making more episodes. Fans can sign a petition in support of its renewal.
Stay tuned to CHOPNEWS for the latest scoops and updates of Business News, Sports News, Technology News, World News and Entertainment News